Lorenzo Fragola, arriva "Solero", il nuovo singolo con The Kolors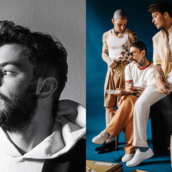 Venerdì 2 luglio arriverà "Solero" il nuovo singolo di Lorenzo Fragola in collaborazione con The Kolors, pezzo dalle spiccate sonorità anni '80.
Ad annunciare la nuova uscita discografica ci ha pensato Lorenzo stesso tramite i social, offrendo ai fan una serie di indizi che, un poco alla volta, hanno portato a Stash, Alex e Daniele.
Questa canzone, scritta dal giovane cantante siciliano in compagnia di Federica Abbate e Stefano Tognini, mentre la produzione è affidata all'hitmaker Zef, tenterà di replicare il successo di "#fuori c'è il sole" (2015) e di "L'esercito del selfie" (2017) con Arisa e Takagi & Ketra, ma anche del singolo "Margarita" che lo stesso Fragola ha co-scritto per la cantante Elodie e il rapper Marracash.
Lorenzo Fragola, nato a Catania 26 anni fa, è diventato famoso nel 2014 dopo aver vinto l'edizione numero otto del talent show di Sky Uno "X-Factor" con "The reason why", certificato dalla FIMI prima disco d'oro, in 5 giorni, poi doppio disco di platino, stabilendo così un primato assoluto all'interno del programma. Successivamente ha pubblicato "1995" il suo primo album (2015) al quale hanno fatto seguito "Zero Gravity" (2016) e "Bengala" (2018). Ha partecipato due volte al Festival di Sanremo: nel 2015 con il brano "Siamo uguali", piazzandosi in decima posizione e nel 2016 con "Infinite volte" che questa volta lo porta al quinto posto.