Lost Frequencies: Ascolta "Here With You", il nuovo singolo feat. Netsky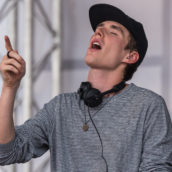 Arriva "Here With You" su Rise Records (Time Records), il nuovo singolo di Lost Frequencies in collaborazione con Netsky, in tutte le radio da venerdì 7 Luglio 2017!
"Here With You" è la prima collaborazione di Lost Frequencies con un altro dj che lo eleva a un'altra dimensione, un lavoro con un altro produttrore belga, la leggenda della Drum & Bass, Netsky.
Appena entrati in studio, Lost Frequencies e Netsky hanno dato inizio a questa collaborazione con grande entusiasmo, fondendo i propri suoni Deep House con le vibrazioni della musica Drum & Bass. "Here With You" è un mix fresco che fonde i suoni di chitarra di Lost Frequencies alla potenza dei bassi di Netsky con un dolcissimo vocal curato da Amy Yon.
Dopo 7 Dischi di Platino solo in Italia (4 Platino per "Reality" con Janieck + 3 Platino per "Are You With Me"), Felix De Laet in arte Lost Frequencies ha pubblicato il suo album "Less Is More". Il 14 Luglio uscirà la nuova versione (Deluxe) che conterrà il nuovo singolo "Here With Me" + tutte le versioni extended della versioni originali.