Lost Frequencies – Like I Love You (feat. The NGHBRS)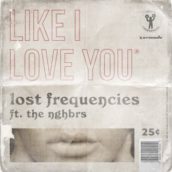 Arriva "Like I Love You" su Rise Records/Time Records, il nuovo singolo di Lost Frequencies, in tutte le radio da venerdì 26 Ottobre 2018!
Il 2018 è stato un altro anno pieno di successi per Felix De Laet (aka Lost Frequencies): Disco di Platino con "Crazy" e Disco D'Oro e nelle prossime settimane Disco di Platino con "Melody" (Feat. James Blunt) e tutt'ora in Top 60 su EarOne.
Lo scorso weekend Dj Mag ha confermato questo dato, posizionando Lost Frequencies al #17 della Top 100 Dj Mondiale!
Oramai Lost Frequencies è sinonimo di successo radiofonico e di vendita, una hit dopo l'altra oramai da anni, fin dal suo primo singolo "Are You With Me" e "Reality" (Feat. Janieck) che insieme hanno totalizzato 7 Dischi di Platino solo in Italia!
"Like I Love You" vede la partecipazione dei The NGHBRS (The Neighbors/I Vicini in Italiano), giovanissimo duo di Los Angeles che con la loro voce vellutata hanno firmato la nuova hit di Lost Frequencies!