LP, estate italiana "live"!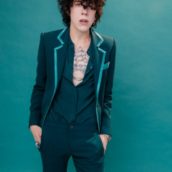 La cantautrice americana è pronta a tornare nel paese delle sue origini, l'Italia, per tre nuovi concerti, imperdibili occasioni per ascoltare dal vivo la sua incantevole voce: il 13 luglio al Gru Village di Torino, il 14 in Piazza degli Scacchi a Marostica (VI) e il 15 luglio a Firenze, in una location ancora da definire.
I biglietti per i concerti di Torino e Vicenza sono già disponibili su circuito TicketOne, online e nei punti vendita autorizzati.
LP, Laura Pergolizzi, è nata a Long Island (stato di New York) da genitori italiani. Il suo esordio discografico risale al 2001 con l'album "Heart-Shaped Scar" ma ha raggiunto il successo solo tre anni fa grazie al singolo "Lost On You". La canzone è diventata presto una hit in tutto il mondo, soprattutto in Europa. In Italia ha raggiunto la vetta delle classifiche e conquistato ben quattro dischi di platino. Successo confermato dal nuovo album "Heart To Mouth", uscito il 7 dicembre 2018: il primo singolo estratto, "Girls Go Wild", è stato appena certificato dalla classifica EarOne Preview Top 100 Of The Year 2019 come il brano più ascoltato dell'anno. Un risultato che si aggiunge ad altri numeri straordinari: 25 milioni di streaming su Spotify e 52 settimane consecutive nella classifica airplay ufficiale con i tre singoli estratti dal suo ultimo album "Heart To Mouth" ("Recovery", "Girls Go Wild" e "Shaken"). LP è stata l'artista più trasmessa dalle radio italiane nel 2019.