MAJOR LAZER ESSENTIALS: LA RACCOLTA DEI SUCCESSI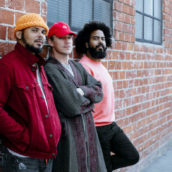 I Major Lazer ci regalano una fuga dalla realtà con il video di "Blow That Smoke", singolo in collaborazione con la cantante svedese Tove Lo.
Nato da un'idea di Tove Lo, il video è stato diretto dal duo di registi DAD – Grant Spanier e Corey C. Waters che in passato hanno firmato lavori di altri artisti tra cui Camila Cabello.
"Sin dall'inizio abbiamo lavorato al progetto come ad una storia di immaginazione, di fuga dalla realtà quotidiana, di musica e di ribellione. […] Collaborare con artisti che tengono così tanto alle storie e ai visual da essere disposti a lavorare molto duramente per realizzarli è davvero entusiasmante. Tove Lo e i Major Lazer hanno messo nel progetto tutta la loro passione. Speriamo che questa colorata fuga dalla realtà attraverso un semplice armadio vi piaccia".
Il video di Blow That Smoke, segue la pubblicazione di
"Major Lazer Essentials"
una raccolta che corona i dieci anni di carriera del trio e che contiene anche le collaborazioni con alcuni degli artisti internazionali più importanti tra cui
Justin Bieber
,
Ariana Grande
,
Sean Paul
,
Quavo
e molti altri.
Dal 2009, i Major Lazer hanno pubblicato tre album da cui sono stati tratti singoli divenuti hit mondiali.
Ma i Major Lazer sono molto di più, portano avanti una missione precisa, quella di utilizzare la musica per accorciare le distanze fra le persone. Missione che sono riusciti a diffondere grazie a tour mondiali di enorme successo.
Major Lazer Essential è ora disponibile su Because Music. Di seguito la tracklist completa:
Blow That Smoke ft. Tove Lo
Lean On ft. MØ and Dj Snake
Cold Water ft. Justin Bieber and MØ
Light It Up ft. Nyla and Fuse ODG (Remix)
Know No Better ft. Travis Scott, Camila Cabello and Quavo
Sua Cara ft. Anitta and Pabllo Vittar
Watch Out For This (Bumaye) ft. Busy Signal, The Flexican, and FS Green
Powerful ft. Ellie Goulding
Pon The Floor ft. Vybz Kartel
Hold The Line feat. Mr Lex and Santigold
Keep It Going Lounder ft. Nina Sky and Ricky Blaze
All My Love ft. Ariana Grande
Original Don (Flosstradamus remix)
Get Free ft. Amber of Dirty Projectors
Run Up ft. PARTYNEXTDOOR and Niki Minaj
Jah No Partial ft. Flux Pavilion
Be Togheter ft. Wild Belle
Bubble Butt ft. Bruno Mars, Tyga and Mystic
Jet Blue Jet ft. Leaftside, GTA, Razz & Biggy
Come On To Me ft Sean Paul
Boom ft. MOTi, Ty Dolla $ign, Wizkid and Kranium
Orkant/Balance Pon It ft. Babes Wodumo and Taranchyla
Loyal ft. Kizz Daniel & Kranium
All My Life ft. Burna Boy
Tied Up ft. Mr Eazi, Raye and Jake Gosling