Maluma e Justin Bieber in concerto per "Earth Day! The Musical"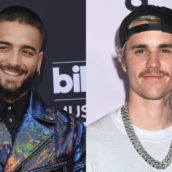 Domani, in occasione della Giornata della Terra, Maluma e Justin Bieber saranno i protagonisti di "Earth Day! The Musical", evento organizzato da Bill Nye e in diretta su Facebook Watch, come ha riportato Billboard.
Oltre all'esibizione dei due artisti, un divulgatore scientifico tratterà temi importanti per la salvaguardia del nostro pianeta, con l'aiuto di molte star dello spettacolo chiamati a coinvolgere il pubblico. All'evento parteciperanno anche Idina Menzel, Cody Simpson, Zac Efron, Steve Aoki e Tori Kelly.
Justin Bieber ha da poco pubblicato il suo ultimo album "Justice", che ha conquistato in pochissimo tempo pubblico e critica, oltre a un disco d'oro negli Stati Uniti. Maluma è uno dei cantanti latini più famosi a livello internazionale, tra i suoi brani più amati spiccano "Felices los 4" e "Hawái" e ha collaborato anche con Madonna per il singolo "Medellìn".