Maneskin e Iggy Pop canteranno insieme "I Wanna be your slave"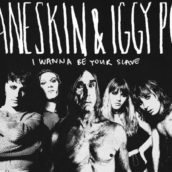 Nei giorni scorsi un brevissimo video pubblicato sul profilo Instagram della band romana aveva suscitato la curiosità dei fan: nella clip si vede un frammento di una videochiamata in cui Iggy Pop saluta in italiano i quattro componenti del gruppo con un "Ok, ciao eh!" e subito era sorto il sospetto, ed anche la speranza, che potesse essere l'indizio di una straordinaria collaborazione. Sospetto rafforzato dall'altrettanto breve didascalia che accompagna il video: "Keep an eye on this. Soon @iggypopofficial" (Tenetelo d'occhio, presto Iggy Pop).
Ed ecco la conferma ufficiale arrivata con un nuovo post pubblicato dai Maneskin nella giornata di oggi con il quale annunciano un'inedita versione di "I Wanna be your slave", realizzata in collaborazione con la leggenda del rock internazionale, in uscita tra un paio di giorni, venerdì 6 agosto.
Come si sospettava dunque prestissimo ci sarà la possibilità di ascoltare i Maneskin e Iggy Pop insieme.