Marco Carta: Ascolta "Finiremo per volerci bene", il nuovo singolo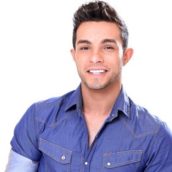 "Finiremo per volerci bene" è il nuovo singolo di Marco Carta, estratto dall'album "Tieniti Forte", che racconta dell'importanza di riuscire a trasformare la fine di una storia in un ricordo positivo da non cancellare.
«Una storia che finisce, dove rimane solo un'ultima notte da vivere insieme – racconta Marco. "La vivo come il primo bacio, l'ultima notte con te". Comunque vada, se ci teniamo forte ad ogni momento che viviamo, il risultato sarà sempre positivo e "finiremo per volerci bene"».
Le 12 canzoni che compongono l'album "Tieniti forte" ( 10 nella versione digitale) sono prodotte da Davide Simonetta che è presente anche nella veste di autore con Luca Chiaravalli, Raige, Gianluigi Fazio, Tony Maiello, Gianluca Florulli , Stefano Pavani e molti altri.
Durante questi anni Marco Carta ha ottenuto molti premi e riconoscimenti, dalla vittoria di Amici nel 2008 e alla vittoria al Festival di Sanremo nel 2009 si sono aggiunti 2 premi ai TRL Awards nel 2009 (Man of the year e best#1 of the year) e uno nel 2011 (best talent show Artist), 2 Wind Muisc Awards, 2 Venice Music Awards ( nel 2009 e nel 2010), 2 Kid's Choice awards nel 2012 e nel 2013, , 2 Latin Music awards nel 2012 e nel 2013 , il Premio Roma Videoclip per Dentro ad ogni brivido e moltissime nomination.
A questi premi si aggiungono le certificazioni PLATINO per l'album "la forza mia " (2009) e per il singolo "Splendida Ostinazione" (2014) e quelle ORO per l'album " Il Cuore Muove" (2011) e per i singoli "Ho scelto di no" (2015), "Necessità Lunatica (2012), "Mi hai guardato per caso" (2012) e "Scelgo me" (2013).