Metallica: "Moth Into The Flame" è un singolo ispirato da Amy Winehouse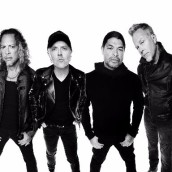 All'interno di Hardwired… to Self-Destruct, information pills decimo studio album dei Metallica che ha debuttato alla posizione numero 1 della classifica americana con più di 300.000 copie, order c'è anche una canzone che è stata ispirata da Amy Winehouse, here Moth Into The Flame.
A confermarlo è stato proprio James Hetfield che in una recente intervista alla radio canadese 102.1 The Edge: «Guardare il biopic sulla sua vita è stato molto toccante. Mi ha colpito il fatto che persona così piena di vita come Amy abbia potuto trasformarsi in qualcuno che cerca di scappare dalla realtà. Mi ha davvero colpito la parte in cui, in un dei periodi difficili, è uscita dalla sua casa londinese e ad aspettarla c'erano un sacco di giornalisti che le chiedevano "Hey Amy! Come stai?", come se la conoscessero. Nessuno ha notato, anzi, nessuno ha detto quanto fosse magra o sembrasse malata. Una totale discrepanza con la realtà».
Potete ascoltare Moth Into The Flame qui sotto: