Metro & Nelly Furtado: E' uscito "Sticks & Stones", il nuovo singolo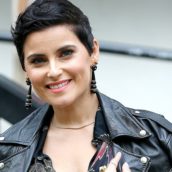 Team di produttori e songwriters inglesi, M-Phonic, ha raggiunto fama internazionale grazie alla collaborazione con artisti quali Enrique Iglesias, James Arthur, Celine Dion, One Direction, James Morrison, The Vamps, Craig David, Ella Eyre solo per citarne alcuni.
Nelly Furtado non ha bisogno di grandi presentazioni: una superstar che, nella sua carriera, ha venduto oltre 40.000.000 di dischi, vinto un Grammy ed un Brit Award, e che ha collaborato con molti artisti di altissimo livello internazionale fra cui James Morrison con il brano "Broken Strings", prodotto in collaborazione proprio con Metrophonic.
"Sticks and Stones" è un brano cross-over, elegante, e groovy come molte delle canzoni interpretate da Nelly e, nelle sue varie versioni, lascerà sicuramente il segno in questa imminente calda estate 2018!