Michael Bublé – Love You Anymore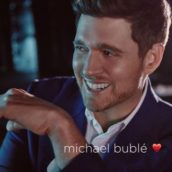 È "Love you anymore" il primo singolo di Michael Bublé che anticipa la pubblicazione di Love , il suo nuovo album in uscita il 16 novembre, a due anni dal suo precedente lavoro discografico.
"Love You Anymore", scritto da Charlie Puth, cantante, autore, produttore e più volte nominato ai Grammy , uscirà in radio e negli store digitali venerdì 12 ottobre.
Tra gli altri brani dell'album, alcuni classici del repertorio americano, la sognante "When I fall in love", una tormentata versione di un altro standard di Rogers & Hart, "My Funny Valentine", l'allegra "When You're Smiling", lo swing di "Such A Night" e i brani scelti personalmente da Michael come "Unforgettable", "Help Me Make It Through The Night" e "I Only Have Eyes For You". A questi si aggiungono la commovente "La Vie En Rose" – in cui Bublé duetta con la cantante francese Cecile McLorin Salvante e un altro inedito composto da Michael stesso, "Forever Now", in cui dà prova ancora una volta delle sue innegabili qualità compositive, come già aveva fatto in passato con hit come "Home", "Haven't Met You Yet" e "Everything". L'album si chiude con un brano che lascia senza respiro, "Where or When"
Il cantante e compositore canadese è tornato in studio con una nuova prospettiva nella vita ed un rinnovato impegno per onorare la musica che ha sempre amato.
Love è stato prodotto da David Foster, da uno dei collaboratori di Michael di sempre Jochem van der Saag e dallo stesso Michael Bublé. Questo trio di produttori è stato in grado di trasportare in musica ciò che Michael aveva in mente, arricchendolo con arrangiamenti seducenti che fanno da sfondo alla vocalità più unica che rara di Michael Bublé.
Michael Bublé ha venduto oltre 60 milioni di album in tutto il mondo e si è aggiudicato ben 4 Grammy Awards durante il corso della sua straordinaria carriera. Poco prima dell'estate, il ritorno di Michael sulle scene è stato festeggiato da oltre 100.000 fan durante due spettacolari concerti all'Hyde Park di Londra e al Croke Park di Dublino