MTV EMA: i Maneskin vincono il premio "Best Rock", prima volta per l'Italia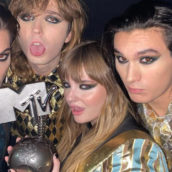 Edizione storica degli MTV EMA, che vede i Maneskin come vincitori come "Best Rock", prima volta in assoluto per una band italiana. Il gruppo romano ha sbaragliato gruppi del calibro di Coldplay, Foo Fighters, Imagine Dragons, Kings Of Leon e The Killers.
""A chi diceva che non ce l'avremmo fatta con la musica… vi sbagliavate! Quest'anno, in particolare, bisogna andar fieri del nostro paese per i risultati raggiunti non solo da noi, ma da tanti sportivi e da personalità della cultura", hanno detto Damiano e compagni alla ricezione del premio, come riporta l'Ansa. "Peccato per i diritti civili, dove continuiamo a rimanere indietro e invece per noi sarebbe stata la vittoria più importante", hanno continuato riferendosi al ddl Zan. La band ha dichiarato di essere sempre dalla parte della comunità Lgbt+ sia sul palco che nella vita privata.
Il successo dei Maneskin è davvero inarrestabile, a partire dalle vittorie al Festival di Sanremo e all'Eurovision Song Contest, la band ha spopolato negli Stati Uniti con la cover di "Beggin'" tanto da esser stati presi in considerazione dai Rolling Stones per aprire il loro ultimo concerto a Las Vegas, mandando il pubblico in visibilio. Ieri sera, Damiano, Victoria, Ethan e Thomas hanno sbaragliato mostri sacri della musica e del rock internazionale, prendendosi il trono.
Tra i favoriti Ed Sheeran, che ha ottenuti i riconoscimenti per "Best Artist" e "Best Song", l'artista britannico ha aperto la serata esibendosi nel nuovo singolo "Overpass Graffiti" e in "Shivers". Sul palco anche Saweetie, vincitrice del "Best New", Maluma vincitore del "Best Latin" e gli Imagine Dragons che hanno presentato il loro nuovo singolo "Enemy".
Ecco i vincitori dei premi principali:
Best Song – Ed Sheeran – "Bad Habits"
Best Artist – Ed Sheeran
Best Group – BTS
Best New – Saweetie
Best Pop – BTS
Best Electronic – David Guetta
Best Rock – Måneskin
Best Alternative – YUNGBLUD
Best Hip-Hop – Nicki Minaj
Best Latin – Maluma
Best K-Pop – BTS
Best Push – Olivia Rodrigo
Biggest Fans – BTS
Best Collaboration – Doja Cat (feat. SZA) – "Kiss Me More"
Best Video – Lil Nas X – "Montero (Call Me by Your Name)"
Video For Good – Billie Eilish – "Your Power"