Nel 2021 gli Abba pubblicheranno cinque nuove canzoni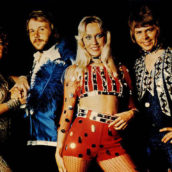 Per tutti i fan degli Abba c'è un'ottima notizia in arrivo: il prossimo anno pubblicheranno cinque nuovi brani.
Il gruppo di "Mamma Mia", aveva annunciato una reunion per quest'anno ma poi l'ha rimandata a causa dell'emergenza Coronavirus. Per l'occasione avevano svelato di avere pronte due nuove canzoni, ora il numero è salito a cinque. A dare la notizia è stato Björn Ulvaeus durante un'intervista per il podcast "Reasons To Be Cheerful".
Al momento il musicista si trova in quarantena su un'isola dell'arcipelago di Stoccolma, ha spiegato che i brani dovevano essere pubblicati entro la fine dell'anno ma per difficoltà tecniche dovute al lockdown hanno dovuto postare l'uscita. Björn ha promesso, però, che verranno pubblicate sicuramente nel 2021.