OneRepublic: è uscito il nuovo album "Human"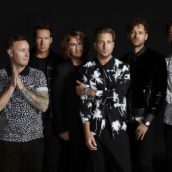 Gli OneRepublic, band multiplatino, tornano con il nuovo atteso album "Human"! Il disco, la cui uscita era stata posticipata a causa della pandemia, contiene un incredibile elenco di successi come "Rescue Me", "Wanted", "Somebody To Love", "DIDN'T I", "Better Days" e l'ultima hit "Run", brano tra i più programmati dalle radio italiane.
Nell'album anche il prossimo singolo "Someday" accompagnato da un video diretto da Miles Cable e Isaac Rentz e anche la collaborazione con KYGO "Lose Somebody".
Questa la tracklist completa disponibile in Italia:
1. "Run"
2. "Distance"
3. "Somebody"
4. "Didn't I"
5. "Rescue me"
6. "Savior"
7. "Take Care of you"
8. "Forgot about you"
9. "Somebody to love"
10. "wanted"
11. "Take it out on me"
12. "Better Days"
13. "Wild life"
14. "Ships + Tides"
15. "Someday (Acoustic)
16. "Lose Somebody" con Kygo
L'album è disponibile negli store digitali in versione deluxe, CD Deluxe con copertina nera con extra tracks e remix.
"Human" è stato scritto in buona parte nel nostro paese, come ha raccontato il frontman Ryan Tedder sui social network e la band lo presenterà dal vivo in Italia il prossimo anno quando il tour mondiale farà tappa nel nostro paese:
3 maggio 2022 – Padova (Kioene Arena)
4 maggio – Milano (Lorenzini District)
Gli OneRepublic hanno pubblicato il loro disco di debutto "Dreaming Out Loud" nel 2007. Nel disco era contenuta "Apologize", brano che ha ottenuto da subito un successo mondiale sia di vendite che di airplay ottenendo anche una nomination ai Grammy e oltre 20 milioni di download e "Stop and Stare", altro successo mondiale. Il secondo album "Waking Up" del 2009 conteneva i successi "All the Right Moves", "Secrets" e "Good Life".
Il terzo album "NATIVE" arriva nel marzo 2013. Il loro precedente album "OH MY MY" è uscito nell'autunno del 2016 debuttando al #3 posto della Billboard Top 200 Album chart. L'album contiene le hit "Wherever I Go" (certificato 2 volte PLATINO in Italia) "Kids" (disco d'ORO in Italia) e "Let's Hurt Tonight", quest'ultima canzone Colonna Sonora del film COLLATERAL BEAUTY e certificato PLATINO in Italia oltre a "Start Again" e "Connection".