Patti Smith annuncia le date di "A Tour of Italian Days"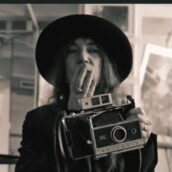 Patti Smith torna in Italia con un nuovo tour legato all'uscita del suo nuovo libro, "A Book of Days", in uscita il 27 settembre, che raccoglie frammenti di vita con parole e fotografie.
A fine novembre la sacerdotessa del rock tornerà in Italia con otto concerti live a supporto della pubblicazione, nel quale ha voluto raccogliere ricordi del passato e scatti del presente, un'occasione unica per ascoltare i brani che hanno reso Patti Smith l'icona moderna che conosciamo.
Ecco il calendario completo:
28 novembre, Ancona: Teatro delle Muse
29 novembre, Pescara: Teatro Massimo
1 dicembre, Campobasso: Teatro Savoia
4 dicembre, Bari: Teatro Petruzzelli
5 dicembre, Matera: Auditorium Gervasio
8 dicembre, Schio: Teatro Civico
12 dicembre, Bologna: Teatro Duse
14 dicembre, Venezia: Teatro Malibran
I biglietti sono già disponibili su Ticketone e nelle rivendite autorizzate.