Robbie Williams ospite della finale di X Factor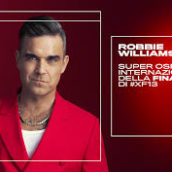 E' stato annunciato il primo ospite della finale di X Factor! Robbie Williams salirà sul palco nella finale del 12 dicembre al Forum di Assago. A dare l'annuncio della partecipazione dell'ex Take That tra gli ospiti internazionali della finalissima è stato proprio Alessandro Cattelan durante la sesta puntata in diretta, nella seconda parte della trasmissione.
L'artista britannico, che si è riunito con i Take That per esibirsi durante la finale di X Factor UK, di cui è stato anche giudice, ha appena pubblicato un doppio album natalizio dal nome "The Christmas Present". Il disco, uscito il 22 novembre, è composto da due CD, "Christmas Past" e "Christmas Future", e contiene brani inediti e classici natalizi interpretati da diversi ospiti del calibro di Rod Stewart, Bryan Adams, Jamie Cullum, il pugile Tyson Fury e il padre dell'artista Peter Conway.