'Rubami la notte' è il brano più trasmesso della settimana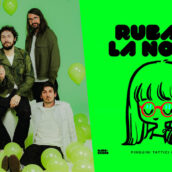 Dopo essersi presi San Siro con due incredibili live, i Pinguini Tattici Nucleari si prendono anche le radio. Rubami la notte è infatti il brano più trasmesso negli ultimi sette giorni.
Nell'ultima classifica stilata da EarOne al secondo posto, come una settimana fa, ci sono i The Kolors con Italodisco.
Scendono dalla 1 alla 3 Fedez, Annalisa e gli Articoli 31 con Disco Paradise.
Non cambiano le posizioni 4, 5 e 6 dove come una settimana fa troviamo Marco Mengoni e Elodie con Pazza musica, Dua Lipa con Dance the night e Post Malone con Chemical. Alla 7 ci sono invece i Onerepublic con Runaway. Posizione numero 8 per Coez & Frah Quintale con Alta Marea e 9 per Bresh & Fabri Fibra con Parafulmini. Chiudono questa top ten Irama e Rkomi con Hollywood.