Santana – Breaking Down The Door (feat. Buika)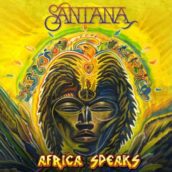 CARLOS SANTANA: il singolo "Breaking Down The Door" tratto da L'EMOZIONANTE NUOVO ALBUM "AFRICA SPEAKS"!

La leggenda musicale Carlos Santana ha al suo attivo una colossale messe di incisioni, entrate nella leggenda grazie alla pionieristica fusione fra rock, musica latina e jazz. Nel nuovo album, Africa Speaks, in uscita il 7 giugno per Concord Records, il chitarrista (già eletto nella Rock and Roll Hall of Fame) va ancora più a fondo nel creare uno degli album più creativi della sua carriera. Insieme con il leggendario produttore Rick Rubin, l'icona della chitarra e il suo gruppo si sono riuniti a Malibu negli studi Shangri La di Rubin, e hanno registrato un'incredibile sequenza di brani, molto spesso in presa diretta, in un'unica versione senza prove o ripetizioni. Un contributo di particolare effetto è arrivato nella veste della cantante ispanica Buika, il cui canto dà forma ad un magico incantesimo lungo tutto l'album.