Sophie and the Giants in concerto a Milano a settembre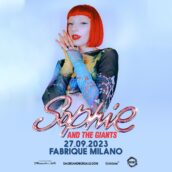 I Sophie and the Giants tornano in Italia per un'unica data live a Milano! Il progetto musicale, che ha quasi raggiunto i dieci anni di carriera, animato da Sophie Scott salirà sul palco del Fabrique il prossimo 27 settembre, per l'unica data prevista nel nostro Paese del tour europeo.
I biglietti saranno disponibili da domani, venerdì 9 giugno, dalle ore 10.00 su Ticketone e nelle rivendite autorizzate.In attesa di poterli vedere dal vivo, i Sophie and the Giants hanno annunciato l'uscita del nuovo singolo "Paradise" in collaborazione con Purple Disco Machine, che arriverà il prossimo 16 giugno.