Stash diventa papà e ringrazia tutti i fan sulle note di "Non è vero"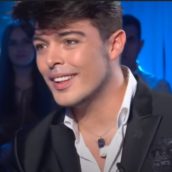 All'annuncio in diretta durante la finale di Amici Speciali, Stash si è commosso insieme al pubblico a casa. La notizia è arrivata a sorpresa ed è stata proprio data da Maria De Filippi, che ha chiamato il leader dei The Kolors sul palco per dargli un regalo: "Come sapete lui ha deciso di rinunciare al suo posto di finalista, ma la settimana scorsa io vi ho detto che lui aveva fatto una cosa bellissima, un inno alla vita". Nel mentre veniva proiettata una clip con l'ecografia della fidanzata di Stash: "Questo filmato mi è arrivato la settimana scorsa, come potete vedere: Stash diventerà papà".
Ora arrivano i ringraziamenti del cantante per tutti i messaggi ricevuti in questi giorni: "Volevo ringraziarvi tantissimo per tutti i messaggi, per la vicinanza, per il calore che mi state mostrando in questo momento così importante della mia vita". Il video ha però anche un altro scopo: ringraziare per il supporto al brano "Non è Vero", l'ultimo singolo pubblicato dai The Kolors che ci accompagnerà per tutta l'estate.