Sting & Shaggy: E' uscito "Dreaming In the U.S.A.", nuovo singolo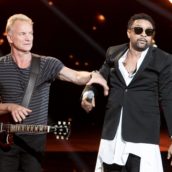 Disponibile per la rotazione radiofonica "DREAMING IN THE U.S.A", secondo singolo estratto da "44/876", l'album collaborativo di ispirazione giamaicana di STING e SHAGGY, uscito lo scorso 20 aprile, un disco che rispecchia appieno l'amore dei due artisti per la Jamaica, la sua musica, lo spirito dei suoi abitanti e la vitalità della cultura dell'isola nel mar dei Caraibi.
Il disco contiene anche il singolo "Don't Make Me Wait" (http://vevo.ly/1QoH5x) che ha raggiunto la Top10 di iTunes e la Top10 di Earone, la classifica dei brani più programmati dalle radio italiane.
STING e SHAGGY sono entrati in contatto grazie a Martin Kierszenbaum, attuale manager di Sting e ex responsabile A&R di Shaggy. I due hanno deciso di entrare in studio insieme dopo aver ascoltato un nuovo brano su cui Shaggy stava lavorando. In un primo momento il featuring prevedeva soltanto la registrazione di "Don't Make Me Wait" ma i ritmi, i testi e le melodie hanno iniziato a fluire rapidamente tra i due esperti musicisti e il risultato è stato l'emergere di ulteriori nuove canzoni.
STING e SHAGGY si esibiranno in Italia con una straordinaria serie di concerti nelle location più intime e suggestive del nostro Paese:
il 26 luglio alla Forte Arena di S.ta Margherita di Pula (CA)
il 28 all'Auditorium Parco della Musica (Cavea) a Roma
il 29 all'Arena di Verona
il 30 all'Etes Arena Flegrea di Napoli
il 1 agosto al Teatro Antico di Taormina