The Cult, a luglio in Italia!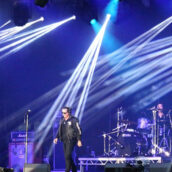 The Cult verranno in Italia la prossima estate per un solo, imperdibile concerto: il 1 luglio al Pordenone Blues Festival presso il Parco del Valentino. La prevendita biglietti sarà aperta dalle ore 10 di venerdì 31 marzo.
La band nasce dall'incontro tra il cantante Ian Astbury e il chitarrista Billy Duffy, provenienti rispettivamente dai Southern Death Cult e dai Theatre Of Hate. I loro primi album sono "Dreamtime" (1984) e "Love" (1985) che contiene alcuni tra i singoli più noti: "Rain" e "She sells sanctuary".
Negli anni a seguire sono arrivati gli album "Electric" (1987), "Ceremony" (1991) e "The Cult" (1994) e altri singoli di successo come "Revolution", "Fire woman" e "Lil' Devil".
The Cult sono riusciti negli anni della loro attività musicale a introdurre nel sound gotico delle origini gli elementi di blues, psichedelia e possenti riff di chitarra, arrivando alla definitiva svolta hard-rock.
La band, che ha all'attivo 11 dischi in studio, si esibirà al Pordenone Blues & Co. Festival per presentare per la prima volta dal vivo in Italia il loro nuovo progetto discografico, uscito l'anno scorso, "Under The Midnight Sun", acclamato da pubblico e critica.