The Kolors, "Italodisco" è ancora il brano più trasmesso in radio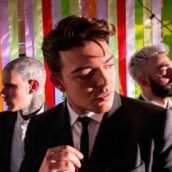 Il 2023 è l'estate dei The Kolors, la loro Italodisco è il tormentone di questi caldi mesi, è già stato certificato Disco di Platino ed è ancora il singolo più trasmesso dalle radio italiane. L'ultimo pezzo di Stash e soci occupa infatti pure questa settimana la prima posizione della classifica EarOne.
Scendono dalla 2 alla 4 i Pinguini Tattici Nucleari con Rubami la notte. Non cambiano invece le posizioni 5 e 6 dove troviamo ancora Fedez, Annalisa e gli Articoli 31 con Disco Paradise e Ernia insieme a Bresh & Fabri Fibra con Parafulmini. Alla 7 ci sono invece i Boomdabash feat. Paola & Chiara con Lambada, mentre alla 8 c'è la super DJ sudcoreana Peggy Gou con (It Goes Like) Nanana. Chiudono questa top ten i Onerepublic con Runaway, alla 9, e  Coez & Frah Quintale con Alta Marea, alla 10.