The Kolors, 'Italodisco' è ancora prima ovunque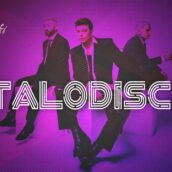 Che estate incredibile per i The Kolors, la loro Italodisco è il tormentone dell'estate italiana, ma non solo visto che il pezzo ha fatto impazzire anche altri Paesi europei. Intanto da noi ha ottenuto il doppio Disco di Platino, è ancora il singolo più venduto e il più trasmesso dalle radio italiane.
Dua Lipa con Dance the night occupa invece la posizione numero 2 della classifica EarOne appena pubblicata.
Medaglia di bronzo per Marco Mengoni e Elodie con Pazza musica.
Sale dalla 5 alla 4 Rubami la notte dei Pinguini Tattici Nucleari seguiti dalla super DJ sudcoreana Peggy Gou con (It Goes Like) Nanana. Stabili alla 6 Fedez, Annalisa e gli Articoli 31 con Disco Paradise, alla 7 Ernia insieme a Bresh & Fabri Fibra con Parafulmini e alla 8 i Boomdabash feat. Paola & Chiara con Lambada. Chiudono questa top ten Coez & Frah Quintale con Alta Marea, alla 9, e Irama e Rkomi con Hollywood, alla 10.