The Vaccines: Ascolta "I Can't Quit", il nuovo singolo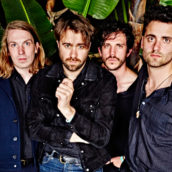 E' in rotazione radiofonica, "I Can't Quit", il nuovo singolo di THE VACCINES e primo estratto dal quarto album del gruppo, "Combat Sports", in uscita il prossimo 30 marzo.
Con il nuovo disco The Vaccines, senza dubbio una delle più grandi e apprezzate band britanniche degli ultimi anni, tornano alle loro radici spaziando dal puro rock and roll marchiato Vaccines al power pop.
Il gruppo, che ha ottenuto due nomination ai BRIT Awards come Best Live Act e Best New Artist, una nomination ai Q Awards come Best New Band e ha vinto un NME Award come Best New Band, ha inoltre annunciato 9 date nel Regno Unito, che avranno inizio il 3 aprile da Bristol e si concluderanno il 14 aprile presso il celebre Alexandra Palace di Londra (per i biglietti visitare http://www.thevaccines.com/tour).
La carriera del gruppo inglese è iniziata col botto: nel 2011 "What Did You Expect from the Vaccines?" è l'album di debutto più venduto dell'anno, seguono, nel 2012, "Come Of Age", che conquista il #1 in classifica nel Regno Unito e "English Graffiti", che si posiziona al # 2. Complessivamente la band ha venduto oltre 1 milione di dischi in tutto il mondo.
Tracklist "Combat Sport":
Put It On a T-Shirt
I Can't Quit
Your Love Is My Favourite Band
Surfing in the Sky
Maybe (Luck of the Draw)
Young American
Nightclub
Out On The Street
Take It Easy
Someone To Lose
Rolling Stones