The Vamps: E' uscito "Just My Type", il nuovo singolo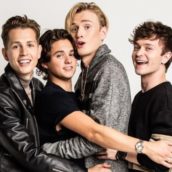 The Vamps, band inglese composta da Brad Simpson (voce e chitarra), James McVey (chitarra), Connor Ball (basso) e Tristan Evans (batteria), hanno annunciato che il loro prossimo singolo, tratto dal loro attesissimo nuovo album Night & Day (Day Edition), sarà Just My Type, brano prodotto da Jacob Manson. Il singolo, già su tutte le piattaforme digitali dal 15 giugno, sarà in tutte le radio da venerdì 27 luglio.
La band ha affermato:
"We are incredibly proud to be releasing Just My Type. It feels very much like the DNA track from our July album. The big guitar riff that drives the song makes it great to play live and we hope you like the studio version as much as we do!"
Night & Day (Day Edition) contiene 10 nuove canzoni, incluso il vecchio singolo Personal con Maggie Lindemann e Too Good To Be True con Danny Avila e Machine Gun Kelly. L'album include anche 8 tracce bonus della Night Edition, includendo la hit dal successo mondiale All Night, che ha avuto 332 milioni di stream su Spotify (10 milioni in più di All I Want For Christmas di Mariah Carey e più di 35 milioni di Human di Rag'n'Bone Man).
L'album più recente, Night & Day (Night Edition), ha ottenuto il posto più alto nella Official Albums Chart, ed è entrata nella Top 10 su iTunes in più di 20 paesi inclusi Argentina, Filippine, India e Australia.
The Vamps sono una delle band inglesi che ha raggiunto il maggior successo in tutto il mondo, ottenendo più di 2 miliardi di stream globali, 8,4 milioni di ascoltatori mensili e 1,7 milioni di follower su Spotify. Sono anche la band più guardata su Youtube, con un totale di più di 600 milioni di visualizzazioni.
Così come per il loro fenomenale record di vendite, anche dal punto di vista del live hanno un enorme seguito. The Vamps hanno visto 4 tour europei nelle arene e hanno più volte fatto il sold out alla O2 Arena. Il tour più recente ha visto più di 100.000 venduti.
Anche sui social media sono una forza da non sottovalutare, con più di 6 milioni di like su Facebook, più di 4,2 milioni di follower su Twitter e 2,3 milioni su Instagram.