The Weeknd: "Blinding Lights" vince il premio per la canzone più ascoltata in formato digitale nel 2020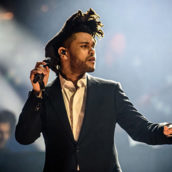 Il 2020 è stato davvero un anno molto fortunato per The Weeknd: "Blinding Lights" vince il premio "Global Digital Single", riconoscimento per le performance mondiali di tutti i formati digitali (streaming, download, paid e ad-supported) di IFPI, l'organizzazione che rappresenta l'industria discografica nel mondo.
"Blinding Lights" è il secondo singolo estratto dall'album "After Hours", uscito a marzo dello scorso anno, e ha conquistato la vetta delle classifiche in più di 30 Paesi tutto il mondo, oltre ad infrangere i record per molte settimane, piazzandosi nelle top 10 e nelle top 5 della Billboard Hot 100 negli Stati Uniti.
The Weeknd è riuscito ad apparire nella top 10 della Global Artist Chart IFPI quattro volte negli ultimi cinque anni, arrivando quarto nella classifica di quest'anno. Insieme a "Blinding Lights", sul podio delle migliori performance digitali c'è anche "Dance Monkey" di Tones and I, a Dua Lipa solo il quinto posto con "Don't Start Now", nono e decimo posto per "Bad Guy" di Billie Eilish e "Dynamite" dei BTS.
Ecco la classifica completa:
1. "Blinding Lights", The Weeknd | 2.72 Global Subscription Stream Equivalents (Billions)
2. "Dance Monkey", Tones and I | 2.34 Global Subscription Stream Equivalents (Billions)
3. "The Box", Roddy Ricch | 1.67 Global Subscription Stream Equivalents (Billions)
4. "Roses", SAINt JHN | 1.64 Global Subscription Stream Equivalents (Billions)
5. "Don't Start Now", Dua Lipa | 1.62 Global Subscription Stream Equivalents (Billions)
6. "Life Is Good", Future (feat. Drake) | 1.57 Global Subscription Stream Equivalents (Billions)
7. "Made To Love", Xiao Zhan | 1.48 Global Subscription Stream Equivalents (Billions)
8. "ROCKSTAR", DaBaby (feat. Roddy Ricch) | 1.45 Global Subscription Stream Equivalents (Billions)
9. bad guy, Billie Eilish | 1.36 Global Subscription Stream Equivalents (Billions)
10. Dynamite, BTS | 1.28 Global Subscription Stream Equivalents (Billions)