Thirty Seconds To Mars – Love Is Madness (feat. Emma)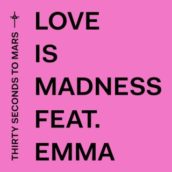 Arrivano in radio i THIRTY SECONDS TO MARS in collaborazione con EMMA per un'esplosiva versione di "LOVE IS MADNESS". Il nuovo singolo, cantato con Halsey nella versione contenuta nell'album "AMERICA", è uscito il 22 febbraio in tutto il mondo!
Dopo il successo del primo singolo Walk on Water che li ha riportati nelle classifiche di tutto il mondo, nel 2018 i THIRTY SECONDS TO MARS sono tornati protagonisti delle radio italiane con il singolo Dangerous Night, che ha raggiunto la settima posizione dell'airplay italiano, e Rescue Me, che pure ha raggiunto la top10 in Italia.
Dopo il successo delle date 2018 del MONOLITH TOUR, con sold out a Roma e Bologna e un grandioso concerto da headliner in occasione della prima edizione del MILANO ROCKS presso l'Open Air Theatre dell'Area EXPO- Experience Milano, i THIRTY SECONDS TO MARS si apprestano a tornare nel Bel Paese per quattro nuovi concerti: il 3 luglio al Rock in Roma (Auditorium Parco della Musica – Cavea) in collaborazione con Fondazione Musica Per Roma, il 4 a Padova al Gran Teatro GEOX (Arena Live), il 6 al Pistoia Blues Festival (Piazza Duomo) e il 7 a Barolo al Collisioni Festival.