X Factor: nella finale di questa sera anche Robbie Williams e Ultimo come ospiti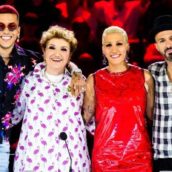 La 13° edizione di X Factor giunge al termine e questa sera, 12 dicembre, potremo vedere la diretta dal Forum di Assago su Sky Uno, in chiaro su TV8 e sulle piattaforme digitali (SkyGo e Now!).
Rimangono in gara i Booda e La Sierra, guidati da Samuel, Davide Rossi, del team di Malika Ayane e Sofia Tornambene, seguita da Sfera Ebbasta.
La serata si dividerà in tre manche. Nella prima parte i finalisti duetteranno con Robbie Williams, che presenterà anche il suo ultimo album natalizio "The Christmas Present", e avverrà la prima eliminazione. I tre concorrenti rimanenti passeranno alla seconda manche, dove presenteranno un best of, un medley dei tre brani che li rappresentano di più, a cui seguirà un'altra eliminazione. Infine i due finalisti si contenderanno la vittoria con i propri inediti.
Le canzoni scelte per i medley.
I Booda hanno scelto "Heart beat" di Nneka, "212" di Azealia Banks e Hey Mama di David Guetta ft. Nicky Minaj.
La Sierra portano "Le acciughe fanno il pallone" di Fabrizio De Andrè, "7 Rings" di Ariana Grande e "Dark Horse" di Katy Perry.
Davide Rossi porta "How long has this been going on" di Gershwin, "Why'd you only call me when your high" degli Arctic Monkeys e "Don't stop me now! dei Queen.
Sofia Tornambene porta "Fix you" dei Coldplay, "Papaoutai" di Stromae e "C'est la Vie" di Achille Lauro.
Tra gli ospiti ci saranno anche Lous and the Yakuza e Ultimo, che interpreterà i suoi brani più famosi e presenterà il nuovo singolo "Tutto questo sei tu", in uscita domani.