Zara Larsson – Ruin My Life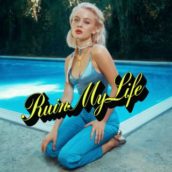 La pluripremiata popstar multiplatino Zara Larsson torna con il suo nuovo singolo "Ruin My Life" (Epic Records), da venerdì 2 novembre in radio. Si tratta del primo brano dal 2017, anno che l'ha vista debuttare con l'album certificato oro "So Good".
"Ruin My Life" (oltre 12 milioni di stream su Spotify) è un pezzo carismatico e accattivante in cui la dinamica voce di Zara si estende dai versi più vivaci all'ipnotico hook pieno di energia "I want you to ruin my life". Il singolo, che anticipa il nuovo album in uscita nel 2019, rappresenta un'ulteriore evoluzione per la star di fama internazionale.
La cantautrice svedese ventenne Zara Larsson è salita gradualmente alla ribalta del pop moderno grazie al suo innegabile talento. "So Good", il disco d'esordio certificato oro, è "il secondo album di debutto di un'artista femminile più streammato su Spotify" con oltre 5 miliardi di stream.
Tra i suoi numerosi successi, "Ain't My Fault" (oro), "Lush Life" (platino) e "Never Forget You" con MNEK (triplo platino). Molti anche i riconoscimenti che ha conquistato dal 2014 a oggi: "Favorite Swedish Star" ai Nickelodeon Kid's Choice Awards 2016, 2017 e 2018; "Best New Act" e "Best Worldwide Act" agli MTV EMA's 2016; 4 Swedish Grammy Awards; nomination come "Best Song", "Best Album" e "Artist of The Year" all'edizione 2018; è stata inoltre inserita tra i "30 Most influential Teens of 2016" (TIME Magazine) e i "21 under 21" del 2017 (Maxim's Hot 100 del 2018). Ha inoltre ricevuto numerose nomination ai Teen Choice Awards, agli MTV VMAs e ha avuto il privilegio di esibirsi sul palco dell'edizione 2017 del concerto del Nobel per la Pace con "Symphony" insieme a Clean Bandit.